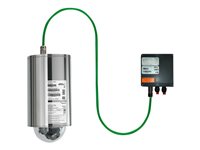 ExCam XPT Q6055 Explosion-Protected PTZ Network Camera is an easy-to-install and easy-to-integrate dome-style camera. It delivers the sweeping overviews and superb zoomed-in detail you expect from a quality PTZ camera from Axis. Features: Superior performance for hazardous areas
Reliability and serious savings
Superior performance for hazardous areas ExCam XPT Q6055 is a lightning-fast PTZ camera makes it an excellent choice for monitoring vast areas. Plus it features optical zoom and HDTV resolution, so it provides superb zoomed-in views of people and objects from a great distance.
Reliability and serious savings PoE powered for easy installation, ExCam XPT Q6055 weighs less than a traditional PTZ. And that means significant savings because you won't need electricians and a 3-person crew to install it. In particular, the camera's low weight makes it easier to install and manage on oil rigs, where heavy winds present a challenge.

View More
Other Ranges Available
Axis Q60 Series
View Range
Axis M50 Series
View Range
Axis P54 Series
View Range
Axis M55 Series PTZ Cameras
View Range
Axis P56 Series PTZ Cameras
View Range