In this modern high-security minded age, it is not surprising to see a wave of CCTV IP Cameras taking smart homes and offices by storm as a front line deterrent in home & business security. IP Cameras make monitoring your home or office space easy by simply installing as part of your network which can be relayed back to your computer, phone, networked video recorder or micro-SD card.
If you are looking to ramp up monitoring in the home or office space, whether it be internal or external, professionally or self-installed we've put together our top 10 best CCTV Security IP Cameras for home and business use including our best outdoor security cameras. We've got a range of IP Smart Cameras that will keep those all-important spaces monitored day & night to help give you peace of mind.
Without further delay let's delve in and look at in detail the top 10 best CCTV Security IP Cameras that the market has to offer.
Wide area surveillance with excellent night vision. The Axis Companion range comes with high quality video feed and a 103° field of view, meaning you can have an excellent view of your home and business.
Features:
High video quality in HDTV 1080p and 2 MP resolution
Built-in IR illumination for surveillance in total darkness
Clear images even in complex lighting
Optimised for reduced 

bandwidth

 and storage efficiency
Network connectivity and electrical power with a single 

PoE

 cable
Outdoor-ready
3 years warranty
AXIS Companion Recorder required
The Vigilance Full HD Outdoor Vandal-Proof PoE Dome Camera is a professional, full-featured HD camera designed for use in harsh environments with industry-certified IK10 (vandal-proof) dome and IP66 (weather-proof) housing, as well as WDR, 3DNR and 20m night vision support.
Features:
Allows the camera to capture clearer videos with less noise under poor lighting conditions
Ideal when facial or object identification is required
Helps to reduce back-end storage provisioning
Toughened metal, industry-certified IK-10 (vandal-proof) and IP-68 (weather-proof) housing designed for use in harsh environments
Specifically built to withstand sudden high impact and adverse weather conditions
From kids and pets to an empty home or after-hours business, you've got a lot to keep safe. Arlo Pro takes the worrying out of life with its 100% wire-free indoor/outdoor home monitoring system that eliminates the need for cords or electrical outlets. It uses rechargeable batteries that can be swapped in a flash minimising camera downtime to help you stay protected. Arlo Pro brings a balance of form and features – from 7 days of free cloud HD video recordings to motion and sound-activated alerts and a 100+ decibel siren, Arlo covers every angle to help keep your home safe and protected.
Features:
100% Wire-Free
HD Quality
Rechargeable
Advanced Motion Detection
Free Cloud Storage
Smart Siren
Weatherproof
130° Viewing Angle
2-Way Audio
Night Vision
Local Backup Storage
Flexible Powering Options
AXIS M3024-LVE network camera, which is part of the AXIS M30 series, is affordably priced, vandal-resistant HDTV fixed mini dome for excellent video during day and night-time conditions in indoor or outdoor environments. It is ideal for installation inside or outside the entrance of a hotel, boutique, restaurant, office or school.
Features:
Compact, vandal-resistant, outdoor-ready design
1-megapixel/HDTV 720p
Day/night functionality and built-in IR illumination
Input/output ports for external devices
Power over 

Ethernet

Edge storage

Multiple 

H.264

 streams
Intelligent capabilities such as enhanced video motion detection and detection of camera tampering attempts like blocking or spray-painting
Power over Ethernet (IEEE 802.3af), eliminating the need for power cables and reducing installation costs
Advanced security and network management features such as 

HTTPS encryption

 with preserved performance, 

IPv6

 and Quality of Service
Outdoor-ready, day and night
Easy to install
The Vigilance HD Outdoor PoE Mini Bullet Camera is a professional, full-featured HD camera, that is designed to be easy to install and integrated into a highly affordable video surveillance solution. Incorporating LowLight+ the camera can see in colour, even in extremely low light conditions, whilst the Integrated IR illuminator allows the camera to see up to 30 metres, even in complete darkness. The camera's IP66 (weather-proof) housing is specifically designed to withstand all adverse weather conditions. The Vigilance Range offers professional, full-featured high definition video surveillance that is easy to install and highly affordable. The range consists of cameras designed specifically to meet different surveillance and environmental requirements. From standalone surveillance solutions that allow you to record video without additional software or equipment, to weather/vandal-proof cameras for harsh environments.
Features:
LowLight+ – High sensitivity camera sensor allows the camera to see details in colour even in very low light conditions
3D Noise Reduction
Allows the camera to capture clearer videos with less noise under poor lighting conditions
Ideal when facial or object identification is required
Helps to reduce backend storage provisioning
Full-featured  and Edge Storage
If you're a business owner looking for a discreet, camera that's attractively priced, simple to install and cost-effective to run, AXIS M1065-L Network Camera is just what you need. You get excellent Axis image quality – both during the day and at night. And a wealth of useful features. AXIS M1065-L is the perfect plug & play video surveillance camera for smaller stores and offices. More Info…
Features:
Built-in microphone and mini-speaker
PIR motion sensor
Power over 

Ethernet

Bracket for wall and corner mount
Day & night with IR illumination
Just plug it in and press record
A camera that sees in the dark
Warn intruders off your premises
A camera that saves you money
Outdoor full HD IR network cameraAXIS Companion Eye is an outdoor-ready fixed mini dome with IK08-rating against vandalism. With 3-axis camera angle it offers a 115° horizontal view which can easily be adjusted even to corridor format. AXIS Companion Eye has a compact, flat-faced design that suppresses reflections. Utilising Wide Dynamic Range technology and IR illumination for surveillance in challenging light conditions or even total darkness. The camera provides HDTV surveillance. AXIS Companion Eye features PoE that allows one cable to provide both network connectivity and electrical power.
Quad HD/4 MP, AXIS M3046-V provides exceptional video quality. AXIS M3046-V is perfect for stores, hotels, schools, banks, and offices. And it features an HDMI output for live streaming to a public monitor. More Info…
Features:
Quad HD/4 MP video quality
Wide Dynamic Range (

WDR

) for good detail in bright and dark areas
Axis' Zipstream technology – saves 

bandwidth

 without sacrificing quality
HDMI output for live streaming to a public monitor
Digital PTZ and multi-view streaming
Ultra-compact, discreet design and cost-effective installation
Supports intelligent analytics
Axis quality
Sharp images, low bandwidth
See the big picture – and the details – with a single camera
Live streaming to a public monitor
Fits in your hand – fits in anywhere
Installation that's as easy as 1, 2, 3
The UniFi® Video Camera G3 Dome represents the next generation of the UniFi Video surveillance management system. It records 1080p HD video, day or night, indoors or outdoors under an overhang. More Info…
Features:
Powerful Software Management
HD Image Quality
Unlimited Free Use + No Third-Party Server Streaming + Remote Accessibility Anywhere
Sleek, Integrated Design
Streamlined outdoor-ready 4K fixed dome for any light conditions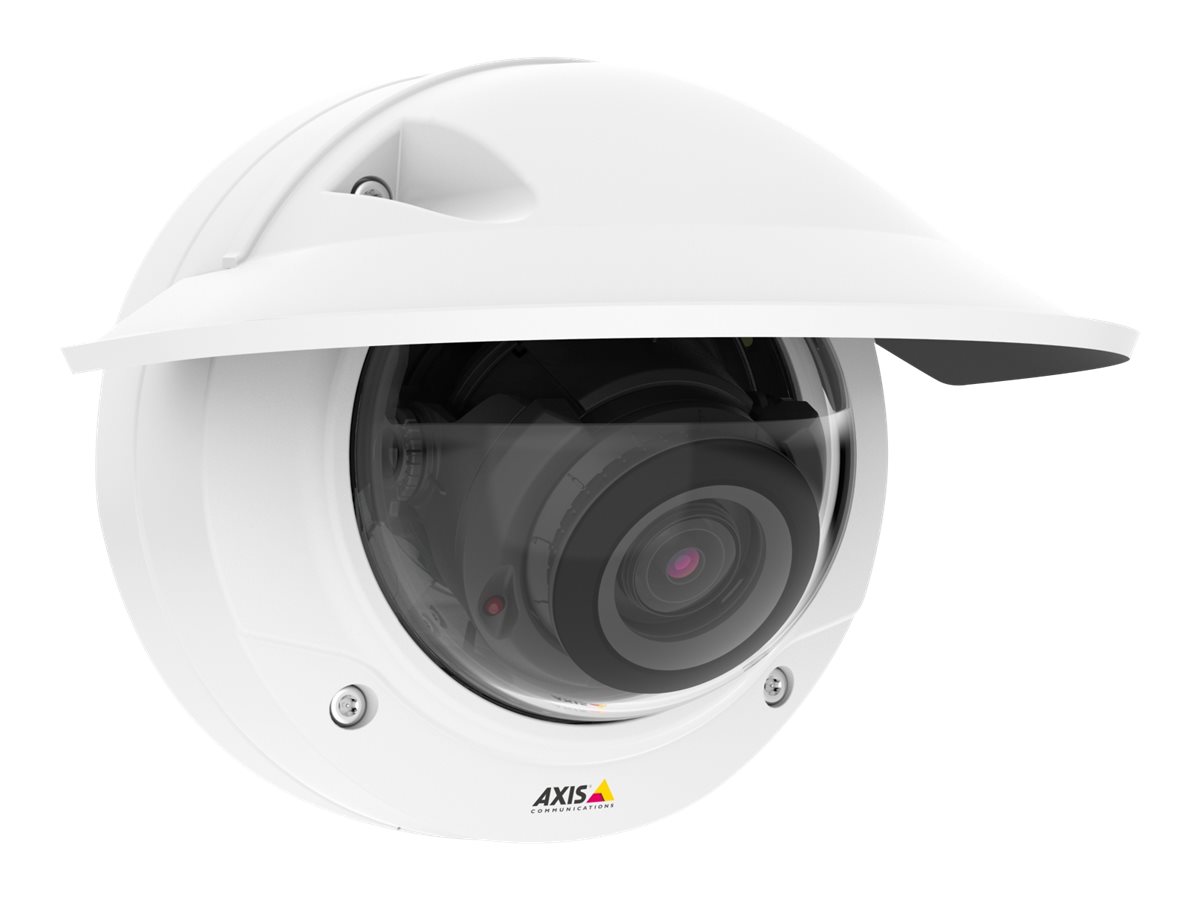 Are you looking for a cost-efficient network camera that delivers high-quality video surveillance under any light conditions? Perhaps you want an overhead overview of the entire area, or maybe a close-up of a cash desk? Whether its midnight or midday, AXIS P3228-LVE network camera gives you clear and detailed images so you can always keep an eye on what's happening on your premises. From public offices and universities to banks and hotels, the AXIS P3228-LVE is ideal for any location where detailed video surveillance is required.
Equipped with WDR – Forensic Capture to handle scenes with strong light variations, Lightfinder for exceptional light sensitivity, and P-Iris control for optimal clarity and depth of field, this versatile camera provides outstanding video quality in both strong and poor light conditions. Day and night functionality, together with Axis' built-in IR solution, OptimizedIR, ensures an evenly illuminated view and excellent video quality even in complete darkness.
Features:
OptimizedIR illumination
4K resolution in full frame rate
Outdoor-ready and IK10 rated
Remote zoom and focus
WDR – Forensic Capture
Axis' Lightfinder technology
Axis' Zipstream technology
There we have it, some of the best IP cameras the market has to offer. Should you still have any questions about your video surveillance requirements, please contact our team who will be able to help tailor a solution to your needs.