2u 19 Inch Rackmount Patch Panel
CE patch panels comply with the current standards for enhanced Category 5e. CE 5e patch panels are designed to minimise deployment time and maximise connection strength.

Comes Complete with:
4 x M6 Cage nuts & bolts for fixing in to a cabinet, coloured black to match the panel itself.
24 x 80mm Cable ties to aid cable management
Features:

2u 19 Inch Rackmount Panel
Durable lacquered steel front panel.
Conforms to ANSI/EIA/TIA, ISO/IEC11801 and EN50173 Category 5e standard, FCC part 68 requirements.
Gold over Nickel plated jack contacts.
Phosphor Bronze & Nickel plated IDC terminals.
IDC terminals accept 22 to 26AWG solid and stranded wires.


Accessories
(Sold Separately)

Cat5e Patch Leads IDC Punchdown Tool

Cat5e Solid Cable Cat5e Modules


View More
25mm x 50mm Low Profile Euromod
UTP RJ45 Cat5e Low Profile Shuttered Module

Excel Category 5e RJ45 modules comply with the EIA TIA Standard for enhanced Category 5. Each shuttered module is supplied with a slide label field and space above, this is allowed for use of self adhesive or further labelling if required. Termination can be made using Krone tooling, a cable tie base is positioned between the IDC blocks to relieve cable stress.

Please Note: These modules are designed to fit only into Excel Faceplates found Here

Features Supports Gigabit Ethernet
Category 5e
25 x 50mm Euromod Size
Low profile Design
Power Sum Compliant
LSA Style Termination Blocks
Built in Slide Label System
One Piece, Snap-in Design
Integral Cable Tie Position
Performance Overview

Excel Category 5e Data Outlets are manufactured and tested to the current Category 5 enhanced standards as defined by the TIA and ISO standards' bodies. Swept frequency tests are applied to each critical performance characteristic, such as near end cross talk (NEXT) and far end cross talk (FEXT). Both Worst Case and Power Sum Test methods are applied. Actual performance exceeds the required standard by a considerable margin ensuring sufficient headroom for even the most demanding applications
View More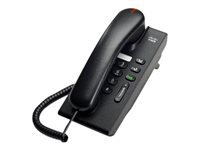 The Cisco Unified IP Phone 6901 is a single-line endpoint delivering cost-effective access to Cisco unified communications. Designed with a trim line-like low profile, the Cisco Unified IP Phone 6901 is an ideal solution for lobbies, hallways, elevators, hotel bathrooms, or other settings that have an occasional need for voice communications services.The Cisco Unified IP Phone 6901 supports two incoming calls with call-waiting service. Fixed feature keys provide one-touch access to hold, redial, and call waiting. Transfer and conference can be supported by using the hook switch similar to that of traditional analog phones.The Cisco Unified IP Phone 6901 is an earth-friendly solution. As with the other Cisco Unified IP Phone 6900 Series endpoints, the Cisco Unified IP Phone 6901 takes advantage of reground and recyclable plastics for a more earth responsible solution. Features: With a trim line, low-profile design, the phone can also be wall-mounted
The phone offers easy-to-use and intuitive arrangement of lines, keys, and calls
Desk and wall mountable
Co-branding
Volume control
Call-control compatibility
Adjustable ringing and volume levels
Message-waiting indicator
Image authentication
Device authentication
File authentication
Signaling authentication
Media encryption using Secure Real-Time Transfer Protocol (SRTP)
Signaling encryption using Transport Layer Security (TLS) protocol
Encrypted configuration files
Cisco discovery protocol and Link Layer Discovery Protocol for Media Endpoint Devices (LLDP-MED)
Dynamic network parameters provisioned through Dynamic Host Configuration Protocol (DHCP)
Embedded web server that provides configuration and statistics
Real-Time Control Protocol (RTCP) support and monitoring
Desk and wall mountable A foldable footstand makes viewing of and use of the buttons and keys easy in the desk-mount case.
Co-branding You can include your logo on the Cisco Unified IP Phones 6900 series endpoints. Cisco has approved third-party vendors to produce the labels. One small paper label is inserted under the plastic cover at the co-branding area and shipped together with the phone from the factory.
Voice quality Comfort-noise generation and voice-activity-detection (VAD) programming is supported on a system basis.
Volume control A volume-control toggle makes volume adjustments easy for the handset, monitor speaker, and ringer.
Call-control compatibility The phones are supported on Cisco unified communications manager and Cisco unified communications manager business edition versions 7.1.3 and later, as well as Cisco unified communications manager Express 8.0 and later using SCCP.

View More
237A 10 Pair Disconnection Strip

Terminal Strips are used to join Multipair Telecom and Data Cables. They can be mounted in either 19" Sub Racks, in various sized Box Connections or Frames. Designation Strips are used to identify individual connections or strips. The 5BSurge Protector snaps in to either 237A or 237B Strips and accepts up to 10 Surge Arrestors.


View More
(Black)
150m Deep Front Mounting Modem Shelf (1u)

Shelf suitable for use in Slimline Patchling Cabinets. Mounts on the front profiles.


View More
The UK plug to two IEC (C13) cable, more commonly known as a kettle lead splitter cable is used for powering a variety of electrical appliances such as PC base units, monitors, printers, photocopiers and a whole host of other equipment.

The PVC connectors are sonically welded to provide a high quality cable which is perfect for home or office use.

Specification:
UK 2x IEC (C13) Splitter
2.5 Metres
13A Fuse 10A IEC Connectors
Moulded
HO5VVF 3 1.0mm² up to 2mtr
HO5VVF 3 0.75mm² after split (0.5mtr)

View More
1 x UTP 25x50mm Module
A Single Gang Faceplate complete with one CE cat5e Data Module, centralised in the faceplate using blanks to enable future upgradeability to a doulble outlet. Individual port labelling is also quick and easy with standard CE outlet slide in fields incorporated into the design. IDC Termination blocks are provided on the back of each module.


View More
4 x UTP 25x50mm Modules
A Double Gang Faceplate complete with four CE cat5e Data Modules, Individual port labelling is also quick and easy with standard CE outlet slide in fields incorporated into the design. IDC Termination blocks are provided on the back of each module.


View More
Wall Mounted
These 600mm Deep Wall Mounted Server Racks are ideal for small network installations where both Servers and Patching are require. The additional depth offers increased versatility and the 600mm width gives ample space for cable management.

These cabinets are suitable for holding shallow servers up to a depth of 500mm

Features:

Lockable Glass Front Door in Steel Surround
Removable and Lockable Steel Side Panels
Adjustable 19" Profiles Front & Rear
Cable access holes, with gland plates top and bottom
Earth Bonding Kit
Cabinets are finished in Grey.
Weight (KGS) 20
Static Loading (KGS) 60
Accessories are available on the following pages:

PDU's
Shelves
Fans, Blanking Panels and Nuts and Bolts
Please Note: Casters are not compatible with wall mounted cabinets.


View More
Voice, Data and Video Cable Verifier
The new VDV II Series are easy to use cable testers that check the integrity of copper cables commonly found in domestic, commercial or industrial voice, data or video installations, including telephone wiring, data network and video/security cabling.

Employing state-of-the-art technology, VDV II offers functionality not previously available in a wiremapper. The advanced wiremap engine accurately displays complex wiring faults instantaneously

With comprehensive details on faults such as opens, shorts, crossovers and split pairs, VDV II identifies wiring errors instantly. The integrated RJ-11/RJ-12 (voice), RJ-45 (data) and coax F-Type (video) connectors allow faster testing of most types of low-voltage cables by eliminating the need for separate testers or adapters.

VDVII Plus features:
Large 2.9" Backlit Display
Carry Case & Cables
Performs standard tests for copper cabling, including: Coax, 6Pin (RJ11/12), 8Pin (RJ45)
Connectors for Copper Cable Testing
Wiremap for Miswires, Split Pairs, Shorts and Opens
Analog Tone Generator
Voltage Protection
Shielded Cable Testing
Single Screen Results
Hub Blink
Cable Length
Distance to Open
Kit Contents:

1 x VDV II, 1 x dual port remote unit, 1 x coax remote unit, 1 x alkaline battery, 1 x multi-language user guide. 2 x RJ45 to alligator clip cable 390mm, 2 x screened RJ45 to RJ45 cable 150mm, 2 x RJ11/12 to RJ11/12 cable 100mm, 1 x F-type plug to F-type plug cable 230mm, 1 x F-81 barrel splice, 1 x BNC female to F-type male adaptor, 1 x BNC female to F-type female adaptor, 1 x RCA female to F-type male adaptor, 1 x RCA female to F-type female adaptor, 1 x wallet wiring card, 1 x carry case.



View More
Copper only
The new NaviTEK NT is a network tester for troubleshooting and maintenance of active and passive copper and fibre networks. Incorporating an improved graphical interface NaviTEK NT allows network technicians to pinpoint and solve network connectivity issues faster than ever before. Subsequently, tests can be saved as pdf reports and shared with colleagues and clients using the free IDEAL AnyWare™ app.

Features

Performs tests for copper cabling and networks, including:
Display network configuration - IPv4 /IPv6 compatible
Advanced wiremap for miswires, split pairs, opens and shorts
Distance to opens and shorts (TDR)
PoE/PoE+ detection
Tone generator for cable tracing
Ping and Traceroute testing
Hub blink for port identification
DHCP client
Switch detection - 10/100/1000 Mb/s
User-exchangeable RJ45 inserts
Support for up to 12 wiremap remotes
Backlit colour screen
Autotest button performs a suite of network tests
Network Probe provides detailed port and network information of each device
Port identification using EDP/CDP/LLDP protocols
VLAN detection and support
Network scan
Traffic utilisation bar graph
Internal memory for 5000 test reports
Generate test reports (PDF or CSV)
Sent test reports from your mobile device using the free IDEAL AnyWARE App
Network troubleshooter (copper only)
PoE, service detection and port information
Real time display of network traffic
Test storage and PDF reporting
Cable tracing/distance to fault (TDR)
Supports IDEAL AnyWARE App


Click here for the IDEAL AnyWARE app.

Today, network technicians have a broad selection of software troubleshooting tools at their disposal and whilst useful in certain situations and environments they do have limitations. NaviTEK NT on the other hand offers a comprehensive suite of test and troubleshooting functionality only found on dedicated hand-held testers:-
Copper test interface
Fast detection of link and IP information including duplex, speed, port ID, VLAN, DNS, DHCP, Gateway status and IP address
Detects services such as ISDN, POTS and PoE
Accurate wire mapping including length measurement and distance to fault
Rugged, compact design permits use in confined spaces
Not susceptible to virus and malware attack


Kit Contents

1 x NaviTEK NT Plus test unit, 1 x remote unit No. 1, 1 x rechargeable power module 1 x PSU EU/UK/US adapters, 2 x patch cables - 30cm, Cat. 5e STP, USB Wi-Fi adapter, 1 x quick reference guide, 1 x carry case

Please click here for the NaviTEK NT Manual

Please follow this link for the software https://www.idealnetworks.net/UK/EN/Support/Software.aspx
View More