21x37mm
Category 6 UTP modules are standard 6C size. Each shuttered module is supplied with an ID window and label.

The module is cased in a high quality ABS plastic and is suitable for mounting in a variety of plates and housings. The low profile design and its 6C size make this item ideal for floor box installations.

Features

Standard Euromod Size
Category 6
Low Profile Design
Backward Compatible
Supports Gigabit Ethernet
Suitable for 22-26AWG stranded and solid wire, compatible with Krone punch down tool
The Cat6 transmission performance is in compliance with the ANSI/TIA/EIA 568 B.2-1 Standard


View More
25 x 50mm
Cat6 UTP RJ45 Low Profile Shuttered Module

Excel Category 6 UTP Modules meet all current draft specifications for Category 6 connecting hardware. When installed with Excel Category 6 cables and patch panels full link and channel compliance can also be achieved. These outlets also provide backward compatibility with the Category 5 and 5e systems and interoperability with alternative Category 6 offerings. Product design is based around the established Category 5e module and provide quick and easy termination using LSA compatible tooling. Port identification can be completed by use of either the integral slide label or simple application of an adhesive icon

Please Note: These modules are designed to fit only into Excel Faceplates found Here


View More
16.65 x 50mm
The Excel 3 in 1 module offers the ultimate in flexibility, space utilisation and ease of installation. The totally modular design allows the mounting of up to 3 shuttered RJ45 ports in a standard flat or bevelled single gang faceplate or up to 6 in a double gang facia. The unique design means that you only load shuttered outlets as required, any capacity within the plate which is required for a later date is simply blanked off, providing a neat and easy to use completed installation. Individual port labelling is also quick and easy with standard Excel outlet slide in fields incorporated into the design.

Features

Category 6 compliant
High density design
Individual snap in modules
Fit standard Excel Faceplates
LSA compatible IDC
Individual port slide labelling system
Module dimensions 16.65 x 50mm
Lifetime Product Warranty
25 Year System Warranty
Three modules in single gang size
Please Note: These modules are designed to fit only into Excel Faceplates found Here


View More
Available in Black
Cat5e Cable - External Grade LDPE Shielded - 305mt

Solid conductor 4 pair FTP Shielded cable with a black polyethylene outer sheath, for outdoor use.


View More
Supplied on a 100m Reel
Supplied in convenient 100m reels, this Cat6 cable is designed to meet the most advanced U/UTP cable applications. Tested to 250 MHz, the guaranteed performance of this cable meets the ANSI/TIA 568C.2 and ISO/IEC 11801 requirements for PS-NEXT, attenuation, return loss, attenuation-to-crosstalk ratio (ACR)and impedance, making it ideal for high-end transmission links supporting today's networking protocols.

Construction

23AWG bare copper wire insulated with polyethylene. Two insulated conductors twisted together to form a pair and four such pairs cabled to form the basic unit jacketed with flame-retardant PVC.

Features

Specified and tested to 250 MHz
Small, round design pairs
ETL verified to ANSI/TIA 568C.2 and ISO/IEC 11801
Benefits

Reliably supports today's network protocols
Reduced installation costs and maintenance
Lower Bit Error Rates, increases network efficiency and uptime

View More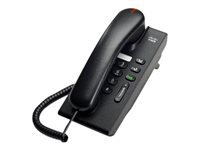 The Cisco Unified IP Phone 6901 is a single-line endpoint delivering cost-effective access to Cisco unified communications. Designed with a trim line-like low profile, the Cisco Unified IP Phone 6901 is an ideal solution for lobbies, hallways, elevators, hotel bathrooms, or other settings that have an occasional need for voice communications services.The Cisco Unified IP Phone 6901 supports two incoming calls with call-waiting service. Fixed feature keys provide one-touch access to hold, redial, and call waiting. Transfer and conference can be supported by using the hook switch similar to that of traditional analog phones.The Cisco Unified IP Phone 6901 is an earth-friendly solution. As with the other Cisco Unified IP Phone 6900 Series endpoints, the Cisco Unified IP Phone 6901 takes advantage of reground and recyclable plastics for a more earth responsible solution. Features: With a trim line, low-profile design, the phone can also be wall-mounted
The phone offers easy-to-use and intuitive arrangement of lines, keys, and calls
Desk and wall mountable
Co-branding
Volume control
Call-control compatibility
Adjustable ringing and volume levels
Message-waiting indicator
Image authentication
Device authentication
File authentication
Signaling authentication
Media encryption using Secure Real-Time Transfer Protocol (SRTP)
Signaling encryption using Transport Layer Security (TLS) protocol
Encrypted configuration files
Cisco discovery protocol and Link Layer Discovery Protocol for Media Endpoint Devices (LLDP-MED)
Dynamic network parameters provisioned through Dynamic Host Configuration Protocol (DHCP)
Embedded web server that provides configuration and statistics
Real-Time Control Protocol (RTCP) support and monitoring
Desk and wall mountable A foldable footstand makes viewing of and use of the buttons and keys easy in the desk-mount case.
Co-branding You can include your logo on the Cisco Unified IP Phones 6900 series endpoints. Cisco has approved third-party vendors to produce the labels. One small paper label is inserted under the plastic cover at the co-branding area and shipped together with the phone from the factory.
Voice quality Comfort-noise generation and voice-activity-detection (VAD) programming is supported on a system basis.
Volume control A volume-control toggle makes volume adjustments easy for the handset, monitor speaker, and ringer.
Call-control compatibility The phones are supported on Cisco unified communications manager and Cisco unified communications manager business edition versions 7.1.3 and later, as well as Cisco unified communications manager Express 8.0 and later using SCCP.

View More
237A 10 Pair Disconnection Strip

Terminal Strips are used to join Multipair Telecom and Data Cables. They can be mounted in either 19" Sub Racks, in various sized Box Connections or Frames. Designation Strips are used to identify individual connections or strips. The 5BSurge Protector snaps in to either 237A or 237B Strips and accepts up to 10 Surge Arrestors.


View More
Secondary Voice Converter

Tailed Voice Adaptors convert RJ45 sockets to LJU presentation to allow telephones and modems to be connected to structured cabling systems.


View More
Wall Mounted
These 600mm Deep Wall Mounted Server Racks are ideal for small network installations where both Servers and Patching are require. The additional depth offers increased versatility and the 600mm width gives ample space for cable management.

These cabinets are suitable for holding shallow servers up to a depth of 500mm

Features:

Lockable Glass Front Door in Steel Surround
Removable and Lockable Steel Side Panels
Adjustable 19" Profiles Front & Rear
Cable access holes, with gland plates top and bottom
Earth Bonding Kit
Cabinets are finished in Grey.
Weight (KGS) 22.8
Static Loading (KGS) 60
Accessories are available on the following pages:

PDU's
Shelves
Fans, Blanking Panels and Nuts and Bolts
Please Note: Casters are not compatible with wall mounted cabinets.


View More
CE Category 6 Solid conductor 4 pair UTP PVC cable, Each cable consists of 8 colour coded polyethylene insulated conductors. These are twisted together to form 4 pairs with varying lay lengths. These pairs, together with a strong nylon rip cord are jacketed in a heat resistant PVC material. The printing detail on the sheath, includes the cables part number, specification details and a 305-0 reverse metre marking within each box supplied, allowing for quick and easy measurement of cable installed and the amount remaining within the box.
View More
19 Inch Rackmount Patch Panel
The CE 24 Port Cat6 Patch Panel meets all the current standards for Cat6. Termination is provided on the rear in the form of Krone Style IDC punchdown connectors. The panel also comes as standard with a detatchable rear cable management bar.

Comes complete with:
4x M6 cage nuts & bolts for fixing the panel in to a cabinet, coloured black to match the panel itself.
25x 80mm cable ties to aid with cable management.
4x Self adhesive plastic label holders c/w write on paper labels
1x Sheet of pre printed numbers 1-96
1x Termination instruction sheet

View More
APC 48U Grey Rack Promo
APC 48U Grey Rack Promotion Details:
Valid while stocks last (140 units available)
This promotion is a Comms Express Exclusive
Further discount available for multi-buy purchase of 10 or 20 units
Product Information

Tall enclosure with 48U spaces for additional equipment. Compact width to optimize data center space. For low to medium density server and networking applications.

Integrated with InfraStruxure products: Schneider Electric cooling, power distribution, and cable management products work seamlessly with IT enclosures to provide a complete infrastructure support system.

Schneider Electric Rack Systems Compatible: Compatible with a variety of Schneider Electric rack accessory products to provide the ability to create a complete rack system. Configure rack solutions using industry leading Schneider Electric Design Portal - Small IT Solution Designer configurator complete with verification of product compatibility and useful 3rd party equipment catalog to aid in visualizing your ideal rack solution.
Optimized for high capacity cable management systems

NetShelter SX enclosures are optimized for use with high capacity cable management systems that attach to equipment mounting rails inside enclosures aligning with equipment mounting u-spaces and provide channels for routing and managing cabling

Vendor-neutral EIA-310 19in Rack Mounting Compatibility Guaranteed: Vendor-neutral mounting for guaranteed compatibility with all EIA-310 compliant 19"" equipment. The ""Fits Like a Glove"" money back guarantee provides peace of mind that all of your EIA-310-E compliant rack-mount equipment will physically fit in a NetShelter.

The APC NetShelter is a multi-functional rack enclosure influenced by customer feedback from around the world. These enclosures are designed to meet current IT market trends and applications ranging from high density computing and networking to broadcast and audio-video. With a strong focus on cooling, power distribution, cable management and environmental monitoring, the NetShelter enclosure provides a reliable rack-mounting environment for mission-critical equipment.

General Information
Manufacturer - APC
Manufacturer Part Number - AR3307G
Product Line - NetShelter SX
Product Model - AR3307G
Worlds most versatile rack enclosure: The NetShelter SX is a multi-functional rack enclosure influenced by customer feedback from around the world. These enclosures are designed to meet current IT market trends and applications ranging from high density computing and networking to broadcast and audio-video. With a strong focus on cooling, power distribution, cable management and environmental monitoring, the NetShelter SX rack enclosure provides a reliable rack-mounting environment for mission-critical equipment.

Physical Characteristics
Colour - Light Grey RAL 7035
Height - 2258 mm
Width - 600 mm
Depth - 1200 mm
Rack Height - 48U
Rack Width - 482.60 mm
Weight (Approximate) - 149.55 kg

View More