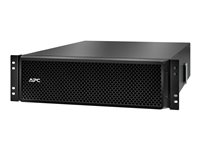 High availability, ruggedized power protection for shipboard and other transportation applications.

Includes : Installation guide , Warranty card

Marine Features & Benefits

Serviceability

Easy to install - Innovative design allows for fast, easy installation by almost anybody.
Technical support - Our experienced technical support engineers are available to answer your questions, giving you peace of mind knowing the help you need is there when you need it.
Hot-swappable batteries - Ensures clean, uninterrupted power to protected equipment while batteries are being replaced
User-replaceable batteries - Increases availability by allowing a trained user to perform upgrades and replacements of the batteries reducing Mean Time to Repair (MTTR)
Availability

Pure sine wave output on battery - Simulates utility power to provide the highest degree of compatibility for active PFC (power factor corrected) servers and sensitive electronics.
Power conditioning - Protects connected loads from surges, spikes, lightning, and other power disturbances.
Automatic self-test - Periodic battery self-test ensures early detection of a battery that needs to be replaced.
Automatic restart of loads after UPS shutdown - Automatically starts up the connected equipment upon the return of utility power.
Temperature-compensated battery charging - Prolongs battery life by regulating the charge voltage according to battery temperature.
Manageability

Serial connectivity - Provides management of the UPS via a serial port.
LED Indicators - Provide easy-to-read status of the unit and utility power conditions.
Intelligent battery management - Maximizes battery performance, life, and reliability through intelligent, precision charging.
SmartSlot - Customize UPS capabilities with management cards.

APC Warranties available for this UPS APC Service Pack Warranty Extension
(New Product Purchases)

APC Service Pack Warranty Extension
(Renewal or High Volume)

FEWBEXTWAR1YR-SP-04 FEWBEXTWAR3YR-SP-04 FEWEXTWAR1YR-SP-04 FEWEXTWAR3YR-SP-04

Protection for your system, peace of mind for you - With the APC Extended Warranty program, you will have peace of mind knowing that in the unlikely event of a failure, your product will be repaired or replaced quickly, minimizing downtime.

Our warranty guarantees free next business day delivery of parts or unit to ensure you get what you need as soon as you need it.

Replacement Battery Options for this UPS APC Replacement Battery Cartridge - FEAPCRBC140

This APC Replacement Battery Cartridge fits selected APC Smart-UPS and Back-UPS, restoring power back-up capacity for home offices, small businesses and IT departments.

This replacement battery cartridge (RBC) has a lifetime of three to five years, offers safe and reliable support to the UPS, and extends the useful life of your UPS. The APC RBC comes fully assembled and includes easy-to-follow replacement instructions, making hot-swap installation simple.


Other Ranges Available
APC Smart-UPS SRT Marine 5-6 kVA
View Range
APC UPS Marine Accessories
View Range