All-in-one recorder with integrated switch for high-definition surveillance
AXIS Camera Station S2008 is an out-of-the-box-ready compact surveillance appliance with an integrated manageable PoE switch and 4 TB storage. AXIS S2008 is preloaded with all necessary software and preconfigured to minimize installation time. Completed with cameras from Axis wide product portfolio and monitors, it forms an all-in-one solution for mid-sized installations up to 8 channels.

Features:
All-in-one solution with integrated PoE switch
Validated with extensive support
High-definition surveillance up to 4K
AXIS Camera Station included
Full compatibility with Axis' products
Easy to install all-in-one recorder

AXIS S2008 is designed for quick installation. The recorder comes with an integrated PoE switch. AXIS S2008 is preloaded with AXIS Camera Station video management software, 8-channel Universal licenses and other necessary system software. Completed with cameras from Axis wide product portfolio and monitors they form a plug and play solution for installations up to 8 channels.

Reliability and compatibility

Hardware components as well as storage capacity are validated to meet the demands for reliable high definition surveillance up to 4K Ultra HD. The solution is extensively tested to perfectly match our wide range of products. It also supports integration of third-party cameras.

First-class support

Support for multi-vendor solutions can be challenging when it comes to troubleshooting and product warranties. AXIS S20 Recorders include a 3-year hardware warranty and with Axis as the single point of contact, you can feel confident that any problem that may arise will be handled quickly and efficiently. Our team of over 100 highly experienced Technical Support engineers world-wide can provide you expert assistance wherever you are.

AXIS Camera Station for effective surveillance

AXIS Camera Station offers an intuitive user interface providing all necessary features for effective surveillance such as flexible live-view layout, site maps, powerful event configuration, efficient alarm management and responsive PTZ control. Quick investigation and retrieval of evidence for safe and secure export is enabled by intuitive timeline visualization and an efficient video search. AXIS S2008 supports connection of two screens for optimal system overview
View More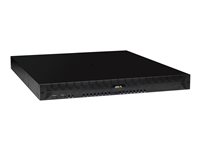 AXIS Camera Station S2016 is an out-of-the-box ready compact surveillance appliance with an integrated manageable PoE switch. AXIS S2016 is preloaded with all necessary software and preconfigured to minimize installation time.AXIS Camera Station offers an intuitive user interface providing all necessary features for effective surveillance such as flexible live-view layout, site maps, powerful event configuration, efficient alarm management and responsive PTZ control. Quick investigation and retrieval of evidence for safe and secure export is enabled by intuitive timeline visualization and an efficient video search. AXIS S2016 supports connection of two screens for optimal system overview. Features: All-in-one solution with integrated PoE switch
Validated with extensive support
High-definition surveillance up to 4K
Easy to install all-in-one recorder AXIS S2016 is designed for quick installation. The recorder comes with an integrated PoE switch.
Reliability and compatibility Hardware components as well as storage capacity are validated to meet the demands for reliable high-definition surveillance up to 4K Ultra HD.

View More
Other Ranges Available
AXIS Camera Station
View Range
Network Video Recorder
View Range