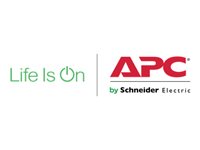 Scheduling Upgrade to 7X24 for Existing Startup Service for up to 40 kVA UPS or Battery Frame. Features: Multiple levels of service
Experienced APC certified field service engineer
7x24 upgrade option
7x24 Upgrade option If you are like most businesses, you want your systems up and running during your busiest hours. In order to accommodate your busy schedule, APC offers an option to schedule services off hours. We will work with you to find a time when servicing your system is least likely to impact your productivity, saving your business time and money.

View More
Other Ranges Available
APC 3 Phase Static Transfer Switch Accessories
View Range
APC 3 Phase Static Transfer Service Plans
View Range