Portable WiFi That Goes Where You Go

No more searching for WiFi. Instead, bring WiFi with you around town, to a client meeting, or on vacation. Stay in touch with a mobile hotspot – a portable device that lets you connect multiple WiFi devices like your smartphone, tablet, or laptop to the Internet anywhere cellphone coverage is available. NETGEAR AirCard Mobile hotspots are reliable, secure, and super easy to use.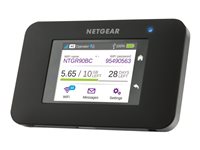 4G LTE Advanced
Get a secure and incredibly fast 4G LTE Internet connection on the go. With amazingly long battery life and the ability to connect multiple Wi-Fi devices, you can access e-mail, news, and whatever matters most. Features: Secure and ultra-fast 4G LTE and 3G speeds
3G and 2G network support
Share a connection with multiple Wi-Fi devices
Allows you to charge your smartphone
Intuitive color touchscreen for data usage and connection status
Easy to setup - simply power up and connect to the Wi-Fi network displayed on the LCD screen
Secure Wi-Fi connections
WPS (Wi-Fi Protected Setup) enabled
Multiple SSID / guest Wi-Fi support
Password-protected
Ideal for:

WiFi That Goes With You On Holiday.

Keep the family entertained while at the cottage or on a road trip. Bring WiFi with you so your family can stream videos, look up directions, or even check Facebook status updates even in the car.



Connect With Your Customers 24/7.

Often out visiting clients? Bring WiFi with you to access online tools or make use of downtime in between meetings. Having WiFi all the time can help you stay productive even when you're not in the office.



Browse While You Wait.

Busy juggling your family's schedule? Catch up with email in between errands, or shop online while waiting for your kids. Stay organized and efficient despite having a hectic day.



Hit The Road With WiFi.

Enjoy the spontaneity of retired life knowing your WiFi is just as flexible as your schedule. With a mobile hotspot, your WiFi goes wherever you go and lets you instantly connect your tablet, laptop or other WiFi device to video call your family or look up points of interest as you tour the country.



Study On Your Schedule.

If you are continuing your studies while you work, you need the ability to access online schedules, assignments, and material from wherever you are.


View More
Transform your NETGEAR AirCard mobile hotspot into a powerful LTE router with this AirCard Smart Cradle. With high-gain internal 4G/3G antennas and external Wi-Fi antennas, 1 USB port and 5 Gigabit Ethernet ports, users can maximize the power of their mobile Wi-Fi network and get great performance needed for homes and offices. Features: Built-in 4G/3G wireless WAN antennas to significantly boost signals
Improved performance and reduced interference
Easy data sharing and video streaming on DLNA-capable devices
Quick to setup and use

View More


Gigabit LTE Speeds With maximum download speeds of up to 1 Gbps and Category 16 LTE Advanced connectivity, the Nighthawk M1 device brings the best ever user experience for buffering and streaming multimedia and video files. No worries when you need to access heavy-data programs or get a lot done, whether at home or on the go - you can count on the reliable blazing speeds that the Nighthawk M1 can deliver.



Beyond a Mobile Hotspot The Nighthawk M1 is the ultimate travel router that does more than connecting multiple WiFi devices to a secure Internet connection while on the go. As a media hub fit for travels, the device can store media with built-in uSD, or connect via USB Type-C to external storage and stream multimedia to keep everyone entertained. Plus, while security is equally important when travelling, the Nighthawk M1 works as a portable base station for Arlo security cameras to monitor your surroundings at any destination. Also included are parental control options, an improved JumpBoost feature, and a long-lasting battery that can last all day.



Shareable WiFi The Nighthawk M1 supports up to 20 WiFi-enabled devices simultaneously — smartphones, laptops, tablets, printers, digital cameras, gaming consoles - all the devices that you may have with you at home, at the office, or on the road. You can securely share your blazing-fast WiFi with friends, family and co-workers without worrying about searching for public WiFi, or using an insecure connection.

Ideal Uses

Your Ultimate Family Device The Nighthawk M1 mobile router is designed to provide a comprehensive one-stop Internet connectivity and media sharing solution for fun-filled family getaways.

One simple and reliable device that provides ultrafast LTE speeds.
Prepare for long road trips or everyday commutes with stored media that can be streamed locally, without using up your limited data plan
Independently view what you want, when you want.
Set up parental controls to safeguard your children or limit their Internet usage


Work or Play from Anywhere, Anytime Count on the Nighthawk M1 to do more with less. Even if you are in a congested area with many surrounding WiFi networks, or if you are in a remote area without a WiFi connection available - the ultrafast speeds brought to you by your own Nighthawk M1 will keep any or all of your devices connected, saving you the time of connecting and reconnecting to different WiFi networks.



Redefine Your Holiday Experience Whether your accommodation is at a hotel or at the campground, the Nighthawk M1 mobile router can keep all your devices connected, while also supporting your Arlo security cameras as a portable base station. Keep an eye on your belongings and surroundings so you can focus on enjoying your holiday.



Bring Your Whole Team With You The Nighthawk M1 provides ultrafast LTE speeds to your entire team while you are on the go or working offsite.

Utilise waiting time efficiently while in-transit
Download or upload information for file-sharing or collaboration
Maintain data security and employee usage accountability, avoiding the risk of using unprotected public WiFi while working with confidential corporate information


Business connectivity made easy The M1 enables mobile businesses to efficiently operating anywhere, regardless of whether it is at a temporary or permanent location.

Activate instant Internet connectivity for any WiFi device in temporary or mobile stores, without relying on external facilities
A simple and reliable multi-functional solution that doesn't require any additional infrastructure or technical support
Grant WiFi access to visitors or temporary staff onsite

View More
Introducing the Next Generation Gigabit LTE Mobile Router

The Nighthawk M2 Mobile Router by NETGEAR is the next generation Gigabit Class LTE Mobile Router to achieve maximum download speeds up to 2 Gbps in selected areas, bringing your mobile broadband experience to unparalleled new heights.

Advance the way you WiFi on-the-go – the Nighthawk M2 Mobile Router by NETGEAR is the next generation LTE Mobile Router to achieve maximum download speeds, bringing your mobile broadband experience to unparalleled new heights. With super fast download speeds, support for Cat.20 LTE Advanced 5-band Carrier Aggregation, this premium Mobile Router provides the best internet connection experience possible whether it is used on-the-go, at home, or during your travels. As an ultimate router fit for travels, the Nighthawk M2 Mobile Router can provide a secure LTE connection to share with up to 20 WiFi devices, stream and play multimedia to keep your friends and family entertained. With a simple and intuitive app-driven user experience, parental control options, an improved JumpBoost feature and a long-lasting battery for all day continuous use, the Nighthawk M2 Mobile Router meets mobile lifestyle at its fullest potential, and delivers a mobile broadband experience like never before.

Features:

Super Fast Wireless Internet Connect Up To 20 Devices Parental Control Touch Screen With Data Usage Meter Travel Router Simple Intuitive App Driven User Experience Media Streaming Long Lasting Battery Dual Band Dual Concurrent Wi-Fi Jumpboost

Enjoy Superfast Mobile Broadband Internet With super fast download speeds, and support for Cat. 20 LTE Advanced 5-band Carrier Aggregation, this premium Mobile Router provides the best internet connection experience possible – whether it is used on-the- go, at home, or during your travels. Nighthawk M2 Mobile Router Technical Specifications Superfast speeds using the next generation of mobile technology
LTE CAT 20, up to 5-band CA and 4x4 MIMO
Up to 5-band Carrier Aggregation
LTE/4GX 700/900/1800/2100/2600 MHz
3G 850/900/1900/2100 MHz
Physical Specifications DIsplay: 2.4" Touch LCD panel
Dimensions: 105.5 (L) x 105.5 (W) x 20.35 (H) mm
Weight: 240g (with battery)
Battery: 5040mAh for all day use
NETGEAR Mobile App The NETGEAR Mobile app offers the easiest and most convenient way to manage your Nighthawk® M2 Mobile Router – view your connection status, settings, and data usage using the mobile app on your smartphone or tablet. A Premium Mobile Router, Plus More...

Ideal Uses

Entertainment on-the-go Fixed Wireless Replacement at Home Take your business everywhere Keep your family entertained during road trips by using your Nighthawk M2 Mobile Router as a media hub, stream videos, look up directions and more. With WiFi/Ethernet offloading feature, whether you browse the Internet or stream your favorite shows, the Nighthawk M2 Mobile Router delivers a fast home broadband alternative without sacrificing speeds. Always-on connect you can count on and share with up to 20 WiFi devices on-the-go, so everyone on your team stays connected. Enjoy 4GX connectivity – for fast emailing, sharing, browsing, and streaming so that you can stay productive no matter where you are.
View More
Other Ranges Available
Netgear Wi-Fi Routers
View Range
Netgear DSL Modems & Routers
View Range
Netgear Orbi Whole Home WiFi System
View Range
Netgear Wireless Range Extenders
View Range
Netgear WiFi Adapters
View Range