Please Note: These products are made-to-order and therefore non-returnable.

Prism FI Roof Mount Fan Tray

Fitted with 2, 4 & 6 way fans
4 Way High speed fan available for increased heat dispersion
Please Note: These Fan Trays will ONLY fit Prism FI Server Cabinets found Here


Prism PI Rack Mount Fan Tray

Fitted with 2, 3 or 4 way fans




Prism PI Roof Mount Fan Tray

Fitted with 2 or 4 way fans
4 Way High speed fan available for increased heat dispersion
Please Note: These Fan Trays will ONLY fit Prism Data Cabinets found Here

Prism PI Server cabinets found Here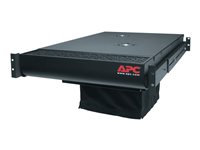 The Rack Air Distribution Unit is a 2U fan unit that works with an existing precision air conditioning system to deliver cool air to the equipment contained in a rack enclosure. The Rack Air Distribution Unit connects into the raised floor and pulls supply air directly into the enclosure. This prevents the conditioned air from mixing with warmer room air before reaching the equipment. The Rack Air Distribution Unit minimizes temperature differences between the top and bottom of the enclosure. It also prevents hot exhaust air from re-circulating to the inlet of the enclosure. The product is recommended for rack enclosures with loads greater than 1.5kW and can provide airflow for loads up to 3.5kW. It is also ideal for enclosures in raised floor environments where under floor air distribution is inadequate.This Air Distribution Unit is designed for Power Dense Enclosures and Low Pressure Areas. Features: Dual fans provide equalized airflow from top to bottom of the rack, upper "U" positions are no longer starved of cool air
Filtered conditioned air is delivered by the Rack Air Distribution Unit, this cool air increases the life of your IT equipment
Air filter removes airborne particles from the rack, creating a cleaner environment
A-B Power Input Feeds: two power cords are shipped with the unit. By connecting the cords to separate power sources, you can provide redundant power to the unit, maximizing uptime
Independent Fan Control Switch vary the amount of airflow to your equipment by turning each fan on or off, one fan can be run or turn on both fans to provide maximum airflow to equipment in the rack
Raised Floor Duct connects the Rack Air Distribution Unit to the raised floor and allows air to be pulled into the rack directly from under the raised floor
Dual A-B Power Inputs Draws power from the UPS for power protection with dual feeds for redundancy.
Dual fans Provides fault tolerance in the event of a fan failure.
Fan control switches Users can turn one or both fans on and off depending on the heat load.
Fan guards A safety measure that provides protection from the fan opening by covering the inlet.
Mounting rails Adjustable depth allows the unit to fit APC NetShelter enclosures or other 19" EIA-310-D enclosures.
Promotes Proper Airflow Helps to maintain proper rack temperatures within the enclosure by promoting top to bottom airflow movement.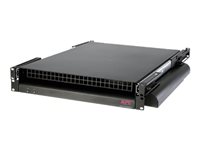 Housing equipment with side-to-side airflow creates many challenges for IT and facility managers, particularly in regards to cooling. Because most enclosures are designed for a front to back airflow pattern, it is difficult to maintain ideal operating temperatures on side-to-side airflow equipment. The Rack Side Air Distribution Unit allows for greater security and organization by allowing racks to be placed adjacent to one another without impeding airflow.The Rack Side Air Distribution Unit is a 2U rack mountable air distribution product for networking equipment or servers with side-to-side airflow. It pulls in conditioned air from the front of the rack and distributes it to the side air intake of the networking equipment. This extends equipment life by providing proper inlet temperatures.This product is recommended for one or more networking products that are stacked consecutively in a rack. Rack Side Air Distribution Units may be placed above and/or below the networking equipment. Airflow pattern is user configurable via an interchangeable air turning vane. Features: Resettable circuit breakers
Dual A-B Power Inputs
Dual fans
Fan control switches
Mounting rails
Air turning vane
Resettable circuit breakers Enables a quick recovery from overload events
Dual A-B Power Inputs Draws power from the UPS for power protection with dual feeds for redundancy
Dual fans Provides fault tolerance in the event of a fan failure
Fan control switches Users can turn one or both fans on and off depending on the heat load
Mounting rails Adjustable depth allows the unit to fit APC NetShelter enclosures or other 19" EIA-310-D enclosures
Air turning vane Directs air up or down the side of the rack, supplying cool air to the inlet of side-to-side airflow equipment

Other Ranges Available
Usystems Cabinet Accessories
View Range
Prism Cabinet Accessories
View Range
Universal Cabinet Accessories
View Range
Universal Server Rails
View Range
Cabinet Plinths
View Range