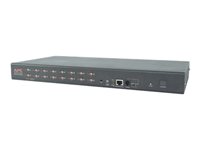 KVM switch - 16 - 1 local user - Rack-mountable
Hot Pluggable Operation - Add or remove servers without having to power off the switch



View More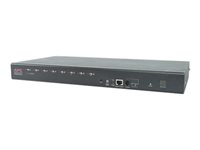 The 8-Port Multi-Platform Analog KVM manages multiple servers with just one keyboard, monitor and mouse. Cascade multiple KVM switches for a modular solution that supports multiple platforms, improving flexibility and simplifying future expansion. Features: Automatic scanning;
Cascading capabilities;
Hot pluggable operation;
Keep alive function;
Microsoft Intellimouse support;
Multi-platform Support;
Occupies 1U of rack space;
On-Screen Display (OSD) capability;
PC mouse/keyboard/video support;
Powder coat paint finish;
Status Indicator LED's.
Hot Pluggable Operation Add or remove servers without having to power off the switch.

View More
Other Ranges Available
APC IP KVM Switches
View Range
APC Cat 5 & Serial Analogue KVM Switches
View Range
APC KVM Accessories
View Range
APC KVM Warranties
View Range