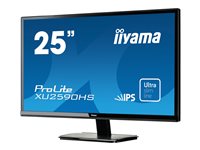 ProLite XU2590HS is a 25" LED backlit LCD Screen featuring IPS Panel technology which is considered to be the best all round panel type. It offers accurate and consistent colour reproduction with wide viewing angles (178°/178°) and fast response time (5 ms black-to-black). XU2590HS is full HD, has a >5mln:1 Advanced Contrast Ratio and 250 cd/m² brightness offering the user a clear and vivid image. The ProLite XU2590HS will provide excellent performance for photographic design, web design, standard office use and in multi-monitor environment. Very suitable for multi-monitor Digital Signage and office applications.
Key Features:

IPS technology
Blue Light Reducer
Speakers
OverDrive on/off
ACR
Full HD
IPS technolgy IPS technology offers higher contrast, darker blacks and much better viewing angles than standard TN technology. The screen will look good no matter from what angle you look at it.



BLUE LIGHT REDUCER As we all know looking at a monitor screen for several hours per day, especially form a closer distance, causes eye fatigue. This effect is much stronger with computer screens than with TV equipment. One of the factors responsible for this phenomenon is the blue light emitted by the screen. Therefore reducing the amount of blue light ultimately allows our eyes to feel less tired while working long hours with a computer screen. We achieved it by adjusting the monitor's brightness and color temperature through a new feature called "Blue light reduction" easily accessible through the monitor's OSD menu.

Overdrive On/Off When very fast graphics are displayed your monitor can sometimes get blurry. Turning on the OverDrive feature will eliminate that.
Speakers This LED monitor is equipped with two high quality stereo speakers.

Advance Contrast Ratio (ACR) Contrast Ratio is a measurement of the difference between the darkest black and the brightest white your monitor can display. Advanced Contrast Ratio is a feature that automatically adjusts contrast and brightness of the screen to assure perfect picture quality while watching films and playing games.


Full HD With true 1920 x 1080p resolution your monitor is ready to display high definition images. This means you can accommodate more information on your screen; e.g. 60% more in comparison to a 1280 x 1024 monitor.


View More
Other Ranges Available
iiyama ProLite 17 Inch Monitors
View Range
iiyama ProLite 19 Inch Monitors
View Range
iiyama ProLite 20 Inch Monitors
View Range
iiyama ProLite 22 Inch Monitors
View Range
iiyama ProLite 23 Inch Monitors
View Range