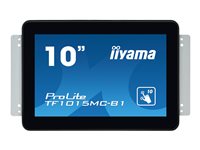 Projective Capacitive 10pt Touch
The ProLite TF1015MC-B1 (10.1 inch) uses PCAP touch technology and is built into an eye-catching bezel with edge-to-edge glass. Thanks to a glass overlay covering the screen and a rugged bezel, it guarantees high durability and scratch-resistance, making it perfect for kiosk and high use public facing applications.

Equipped with a foam seal finish it supports seamless integration into kiosks and provides IP65 rating resulting in dust and water resistance from the front. Landscape, portrait and face-up orientation ensures flexible mounting possibilities in almost any installation. For ease of integration, the TF1015MC-B1 comes equipped with external mounting brackets making it an ideal solution for kiosk integrators, industrial environments, control rooms and interactive multimedia.
Key Features:

Touch technology - capacitive
Open frame brackets
Cable management
Foam Seal
Ball-drop-test proof
Touch technology - capacitive This technology uses a sensor-grid of micro-fine wires integrated into the glass that covers the screen. Touch is detected because electrical characteristics of the sensor grid change when human finger is placed on the glass. Thanks to the glass overlay this technology is highly durable, and the touch function remains unaffected even if the glass is scratched. It offers perfect picture performance and will work with human finger (also latex gloved) and stylus-pen.



Open frame brackets

This open frame monitor comes equipped with external mounting brackets. It guarantees easy installation and makes it an ideal solution for kiosk integrators and Instore Retail.





Cable management Cables can be neatly tied and routed with the special cable cover, so they cannot come loose or move around. A lockable DC connector ensures fixing the power cable.


Foam seal

A foam seal finish (8mm) around the monitor ensures seamless integration and optimal dust protection.


Ball-drop-test proof The ball-drop-test uses a half-kilo steel ball, which is dropped onto the touch screen from a height of 1.3 meter. If the touch screen surface remains unaffected, the monitor passes the ball-drop-test for high impact resistance and durability.




View More
Other Ranges Available
iiyama ProLite 24 Inch TouchScreen Monitors
View Range
iiyama ProLite 27 Inch TouchScreen Monitors
View Range
iiyama ProLite 15 Inch TouchScreen Monitors
View Range
iiyama ProLite 16 Inch TouchScreen Monitors
View Range