ATEN Video Converters allow you to connect a video source device to display devices of your choice, equipped with different video interfaces. We provide simple single port-to-port converters which enable you to connect VGA based devices to DVI / HDMI digital displays, and universal interface products which integrate multiple devices inputs into a single box for easy converting of various analog-to digital audio/video signals. With built in easy–to–use features, this series makes converting connections simple.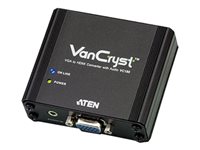 VC180
The VC180 is a VGA-to-HDMI converter with audio that lets you view VGA source data in an HDMI output display with stereo sound quality. It uses dual power sources - from the VGA port or a power adapter. The VC180 gets its power supply from the VGA port. However if your source device is not capable of supplying power, use the power adapter to connect the VC180 to a power source. The VC180 is compact, flexible and convenient to install - with no software required. Simply make the hardware connections and enjoy the experience. Features: Converts VGA signals to HDMI output
Supports analog stereo audio input
Superior video quality - up to 1080p, WUXGA
Screen position button - screen position settings can be stored for each output resolution
Automatically detects video input signals
LED indicator
HDMI compatible
Compact and lightweight
No software required - eliminates incompatibility and installation issues

View More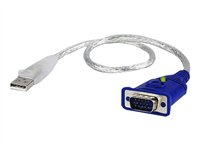 The 2A-130G VGA EDID Emulator is designed for ATEN KVM extender or video extender installations that do not utilize a local monitor at the site where the computer/video source is located. The 2A-130G emulates and stores a default ATEN EDID (Extended Display Identification Information) setting in a non-volatile memory. This means the computer/video source can still "see" the display, even though it is not directly connected.The 2A-130G is suitable for any ATEN KVM or video extender installation where a monitor is not required at the local site, providing a simple, cost-saving, and convenient solution for display-related boot-up problems.
View More
Other Ranges Available
DVI Cables
View Range
HDMI Cables
View Range
Audio Visual Faceplates
View Range
Display Port Cables
View Range