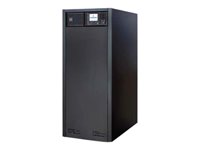 Liebert NXC offers reliable and flexible secure power in a fully integrated package solution. It comes complete with highly efficient transformer-free double conversion technology allowing it to provide installation and operating cost savings. Liebert NXC is a compact solution designed to optimize installation space requirements and provide enhanced flexibility to ensure superior protection for all load types. Liebert NXC combination of performance features, impressive integrated autonomy and compact footprint make it ideal for guaranteeing clean, continuous power for a wide range of applications from IT, medical facilities and laboratories, office facilities, and retail brands. Features: Unprecedented integrated autonomy - virtually eliminates the need for an external battery cabinet and the costs associated with its installation
0.9 output power factor - 11% more active power compared to a 0.8 PF UPS
Unity input PF & low THDi <3% - minimizes installation costs by enabling the use of smaller generators, cabling and circuit breakers
Integrated circuit breakers - simplifies installation and reduces the need for external devices
Wide voltage and frequency range - wide input parameter range ensure UPS always run on utility power results in prolong battery life
Three level inverter/rectifier - the voltage stress of the UPS semiconductors is reduced by half, thus ensuring prolonged life of the critical components
Easy replacement in the event of failure significantly reduces the mean time to repair (MTTR)
Intelligent battery management - maximizes battery performance, life and reliability
Excellent generator adaptability - flexible input performance adjusts with generator and eliminate generator over sizing
Common or dedicated battery configuration - allows the deployment of the cost effective common battery configuration
Standard built in LBS and smart parallel function - ensure trouble free installation and commissioning
Power walk-in enabled - progressively transfer load on generator
Full front access - covers no extra space for service maintenance
Over 150 electrical parameter are monitored and updated in every 10ms through black box function
High kW battery charger power - allows for effective reduction of the battery re-charging time and increases its ability to manage long run times
Full galvanic isolation Liebert NXC offers integrated full galvanic isolation, meaning that an isolation transformer may be housed inside the UPS cabinet. This greatly reduces the system footprint, thus providing space saving advantages.
Integrated autonomy Liebert NXC provides an excellent integrated autonomy which results in back up times of up to one hour. Its spacious internal architecture is able to house up to four battery strings, further optimizing integrated autonomy and delivering the added advantage of virtually eliminating the need for an external battery cabinet. This furthermore reduces installation costs and minimizes the demand on physical space. In addition, Liebert NXC's powerful battery charger (up to 6 kW) ensures rapid recharge, increasing its ability to manage longer back up times.
Parallel and dual bus ready Liebert NXC can be connected with up to four units in parallel. A single unit can be upgraded to parallel operation via easy to modify software settings, allowing the system to be customized for the requested configuration. The Loop BUS connection used in paralleling the system delivers ultimate reliability and eliminates the possibility of a single point of failure, ensuring perfect load sharing and fast detection of any variation in the system status. Furthermore, the output of two single or parallel Liebert NXC units can be synchronized to deploy a dual bus feed, achieving Tier IV level reliability.

View More
Other Ranges Available
Vertiv LIEBERT NXC 3 Phase UPS 10kVA
View Range
Vertiv LIEBERT NXC 3 Phase UPS 20kVA
View Range
Vertiv LIEBERT NXC 3 Phase UPS 30kVA
View Range
Vertiv LIEBERT NXC 3 Phase UPS 40kVA
View Range