NETGEAR ProSAFE® Wireless Management Solutions solve the quandary of individually configuring, deploying, and managing multiple standalone wireless access points. With support of up to 150 APs, it provides a central point to configure and manage your wireless network. Firmware updates and configuration changes can be pushed across multiple APs simultaneously – at the push of a button.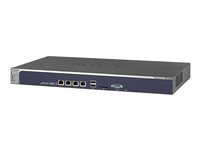 Fully-featured, centralized wireless management solution designed for SMB and easy to set up
The ProSAFE WC7500 Controller is a fully-featured centralized wireless management solution with a base support of ten (10) 802.11n and 802.11ac Access Points (APs) with license to upgrade to fifteen (15) AP's. Easy to configure and intuitive to manage, it provides wireless management for small and medium enterprises, primary schools, and small health care customers with minimum total cost of ownership.

Reliable, Secure and Scalable Wireless Controller for Mid-sized Businesses, Schools and Hospitals The NETGEAR ProSAFE® Wireless Controller WC7500 offers a high-performance, fully-featured, yet extremely affordable, Wireless LAN architecture to meet the demands of medium-sized businesses, schools, and hospitals with thousands of users.

Performance Great support for latency-intensive applications (video, audio, voice over wireless) with seamless L2 and L3 fast roaming
Minimized interferences and dynamic RF Management: Automatic controls of AP transmit power and channel allocations ensure coverage
Robust wireless connectivity: Fair bandwidth allocation among all clients is ensured by load balancing and rate limiting
Limiting bottlenecks: Dynamic load balancing of clients across APs based on number of clients per AP or signal strength threshold/data rate threshold of clients per AP


Business Value Self-healing Wireless with automatic WLAN healing after loss of AP or due to RF interferences adapts the power and channel of the other APs around the area
Full control by complete view of customer deployment with heat map, wireless channel, and signal strength for real-time reporting of network status
Simplified deployment and cost optimization with concurrent support of 802.11n and 802.11ac Access Points


Scalability The scalable WC7500 Controller enables businesses to grow their wireless network as needed with a dramatic return on investment: WC7500 scales up to 15 access points (AP) with base support of 10 AP's and optional license for additional 5 AP's.


Ease Of Use

Configure the MAC address filters, make SSID changes, and change the password for all access points—all from the single WC7500 interface
Triangulation: Administrators can easily locate known APs, rogue APs, and associated clients on the heat map
Wireless bundles (for single and dual band APs) for ease of ordering

View More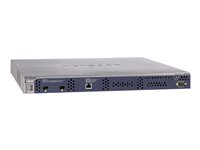 ProSafe High Capacity Enterprise-Class Wireless Controller
The ProSAFE WC9500 High Capacity Wireless Controller is a scalable, high performance WLAN solution for centralized management of up to 200 ProSAFE wireless access points in a single wireless controller. Three WC9500 Wireless Controller can stack into a single cluster to support up to 600 Access Points, with a fourth WC9500 acting as a redundant backup. The supported AP's extends from entry level single band WNAP210/WNAP320/WN370 APs to dual band business class WNDAP360/350, and premium grade 3x3 WNDAP660/620, and outdoor WND930 AP's, and is also 802.11ac ready.The WC9500 Wireless Controller is easy to configure with an intuitive user interface and setup wizard, comprehensive dashboard and monitoring statistics. Flexible enough to support a few dozen laptops to several thousand tablets, it delivers enterprise grade functionality for mid to large-sized organizations, but without the cost and complexity of big IT. The WC9500 comes fully equipped with enterprise grade features such as comprehensive wireless security (WPA, WPA2, Radius, LDAP, Rogue AP protection), guest access, and full networking functionality including embedded DHCP server, VLAN on wired and wireless networks support, to full Quality of Service differentiation. Additionally, with no recurring annual license fees: Simply pay as you grow. Features: Highly scalable 10 gigabit connectivity
Enterprise-grade and feature-rich deployment solutions
Ultra-fast access point discovery with Ufast
Distributed and local forwarding
Investment Protection
Highly scalable 10 gigabit connectivity Supports up to 200 Access Points and 12,000 concurrent clients per controller; stack up to three WC9500 controllers per wireless cluster; supporting up to 600 Access Points and 36,000 concurrent clients per cluster; consists of 2x10G connectivity with SFP+ form factor; backward compatible with 1G connectivity with SFP form factor; additional 1x1G port with RJ-45 copper connectivity.
Enterprise-grade and feature-rich deployment solutions Layer 2 and Layer 3 seamless roaming; dynamic RF adjustments; WLAN healing for automatic RF coverage in the case of AP failure; rogue AP detection; two redundant, hot-swap power supplies (PSU) (one PSU comes with the controller; second optional PSU is ordered separately); two removable fan trays provide front-to-back cooling airflow for best compatibility with data center hot aisle/cold aisle airflow patterns.
Ultra-fast access point discovery with Ufast Ufast AP discovery provides super-fast AP discovery; improves reliability and shortens setup time; secured communication between AP and WC9500.
Distributed and local forwarding Data traffic can be forwarded to the best path without traversing the controller; eliminates controller bottleneck for high throughput 802.11n APs; intelligent tunneling with Layer 2 and Layer 3 roaming.
Investment protection Supports ProSAFE access points; 802.11ac-ready for future deployments; hassle-free, plug-and-replace upgrade with ProSAFE WC7520 and WC7600.

View More
Other Ranges Available
Netgear Wireless Access Points - Business Class
View Range
Netgear Business Central Wireless Manager
View Range
Netgear Orbi Pro Tri-Band WiFi system
View Range