HP ProCurve V1910-24G Switch
In Stock: Next Day
Delivery:
unit(s)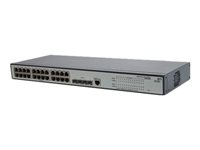 HP V1905 series devices are smart-managed fixed configuration Fast Ethernet and Gigabit Layer 2 switches designed for small and medium-sized businesses looking for an easily managed, low-cost networking solution. These smart-managed switches are preconfigured for fast, easy installation, yet allow network operation to be enhanced using an intuitive Web-based management interface. Advanced security and Quality of Service features create a voice-ready network. V1905 switches are solidly built for business operation, and designed for high reliability, long life, low power consumption, and low total cost of ownership.
Features:
Smart-managed layer 2 switching
Gigabit and fast Ethernet configurations
Intuitive Web interface for network enhancement
Access control list security
HP ProCurve V1910-24G Switch - Product Discussion
Terms & Conditions - This tool is open to everyone. You are responsible for the contents of your comments and any consequences that may arise as a result of them. Comments that contain any of the following will be deleted: terms considered explicit and inappropriate; defamatory, obscene, unlawful, harmful, or offensive.
HP ProCurve V1910-24G Switch Related News Articles