D-Link DIR-657/B
Wireless N HD Media Router
In Stock: Next Day
Delivery:
unit(s)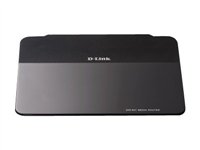 Overview
Details
Documentation
D-Link's Wireless N HD Media Router DIR-657 enables you to connect to the Internet anywhere in your house and stream music, videos and High Definition media. With Wireless N technology, the HD Media Router gives you the very best in speed and coverage around your home.
The DLNA-certified Media Server built-into this router allows you to stream media content directly onto computers, game consoles and media players like the Boxee Box by D-Link. Insert a SD card complete with your photos, music and videos in to the card slot to share content with everyone in your home. You can even share any USB device (like a Printer or Hard Drive), courtesy of D-Link's SharePort technology across your network with friends and family.
With some routers, all wired and wireless traffic, including Voice over IP (VoIP), video streaming, online gaming, and web browsing are mixed together into a single data stream. By handling data this way, applications such as streaming video may not have the bandwidth they need to give you a flawless viewing experience. With D-Link's QoS technology, wired and wireless traffic is analyzed and separated into multiple data streams. Different applications like voice, video, and data will be automatically detected and prioritized so that you can game, talk with friends online overseas or stream the latest films without any lag or glitches.
With the growing number of Internet-enabled applications requiring IP addresses, the supply of IP addresses under the current Internet Protocol version 4 (IPv4) system has already been exhausted. The IPv6 protocol solves this network addressing exhaustion by creating more IP addresses, but migration from IPv4 to IPv6 is not necessarily automatic. This D-Link product is IPv6 Certified and ready for the future.
D-Link's Wireless N HD Media Router is part of D-Link Green, D-Link's program for providing eco-friendly alternatives without compromising performance. It supports WLAN Scheduler, which switches off the wireless network when not needed, for example at night or during working hours. Also the power consumption is further reduced with its Energy Star power supply.
Features:
Built-in DLNA-certified Media Server to stream media around your home
SD card slot to share files and media over your network
SharePort Plus technology: easily share a printer or USB Hard Drive with multiple users
WLAN scheduler to switch off wireless functions when not needed
IPv6 ready: supports the future Internet
D-Link Green: energy-saving design
D-Link DIR-657/B - Product Discussion
Terms & Conditions - This tool is open to everyone. You are responsible for the contents of your comments and any consequences that may arise as a result of them. Comments that contain any of the following will be deleted: terms considered explicit and inappropriate; defamatory, obscene, unlawful, harmful, or offensive.
D-Link DIR-657/B Related News Articles