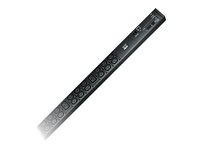 The lightweight thin form factor Eco PDUs have a smaller width and input region than ATEN's standard and low profile PDUs. The thin form factor series have a 56 mm width that fits tight into server racks providing more space for cooling and maintenance. The smaller design leaves 8% more space in the rack to increase air flow and cool IT equipment more effectively. It also means faster maintenance with easier access to equipment normally installed behind the PDU.NRGence Eco PDUs offer real-time power measurement and threshold alerts - allowing you to monitor the PDU's power status, bank status and circuit breakers, either at the PDU or from any location via a TCP/IP connection.With the combination of ATEN Eco PDUs and eco Sensors Energy Management software, a data center is equipped with real-time monitoring, measurement and analysis of energy consumption - with reports of power usage, PUE, RCI and RTI to meet the ISO 50001 requirements. These indexes will automatically generate customized reports about your data center's energy use and include energy saving suggestions. The suggestions allow you to optimize energy usage and save money without harming your IT equipment's reliability. Eco Sensors Energy Management software provides easy multi-PDU management with an intuitive user-friendly interface that allows you to configure PDUs and monitor the power status of equipment connected to them. Features: Thin form factor design with 56 mm width
Built-in 10/100 Mbps Ethernet port
2-level account and password security
IP/MAC filters, SSL 128-bit data encryption and RADIUS for remote authentication
Supports eco Sensors Energy Management Software
Browser access via IE, Firefox, Chrome, Safari and more
Bank level power metering and monitoring
Environment monitoring via external sensors for rack temperature and humidity readings with threshold alerts
Real-time aggregate current, voltage, power, and aggregate power dissipation displayed in a browser-based UI
Space saving 0U rack mount design with rear mounting
Lok-U-Plug and EZ-Lok Holders - easily secures power cables to the PDU

View More
ATEN has developed a new generation of green energy power distribution units (PDUs) to effectively increase the efficiency of data center power usage.

The PE5108 eco PDUs are intelligent PDUs that contain 8 AC outlets and are available in various IEC or NEMA socket configurations. They provide secure, centralized, intelligent, power management of data center IT equipment (servers, storage systems, KVM switches, network devices, serial data devices, etc.), as well as the ability to monitor the center's health environment via sensors*

*Sensors are optional accessories. A sensor-enabled installation is required to generate a more complete energy-efficient data and chart. Higher sensor installation density is helpful to generate more accurate data.

Contents
1x PE5108 eco PDU
1x Mounting Kit
1x Power Cord
1x CD-ROM (Manual, eco Sensors Software)
1x User Instructions
Product Diagram


Features
Bank level power metering and monitoring
Environment Monitoring : support external temperature/temperature & humidity sensors for rack temperature and humidity monitoring
Current, voltage, power, power dissipation, temperature, and humidity metering and threshold level setting
Support TCP/IP, UDP, HTTP, HTTPS, SSL, DHCP, SMTP, NTP, DNS, Auto Sense, Ping, Telnet, and SNMP V1,V2&V3
eco PDUs offer real-time power measurement - allowing you to monitor the power status of devices attached to the PDUs, from practically any location via a TCP/IP connection.

eco PDU supports any 3rd party v3 SNMP Manager Software and eco Sensors (Energy Management Software). eco Sensors provides you with an easy method for managing multiple devices, offering an intuitive and user friendly Graphical User Interface that allows you to configure a PDU device and monitor power status of the equipment connected to it. With eco Sensors, the Sensor-enabled eco PDU also offers comprehensive power analysis reports which can separate by departments and locations, providing precise measurements of current, voltage, power and watt-hour in a real-time display.

With its advanced security features and ease of operation, the eco PDU is the most convenient, most reliable, and most cost effective way to remotely manage power access for multiple computer installations and allocate power resources in the most efficient way possible.
View More
Other Ranges Available
APC PDU
View Range
Austin Hughes PDUs
View Range
Datacel PDUs
View Range