4 Port Powerline AV 500 Kit
In Stock: Next Day
Delivery:
unit(s)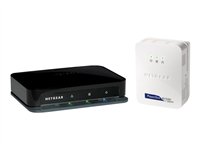 NETGEAR AV series product is designed with superior performance and features to enhance your home theater experience.
Features:
Gigabit wired connection
Port-based quality of service for gaming
Pick-a-Plug for simple troubleshooting
Push-and-secure for easy setup
Energy saving features
Best-in-class performance and reliability
Netgear XAVB5004 - Product Discussion
Terms & Conditions - This tool is open to everyone. You are responsible for the contents of your comments and any consequences that may arise as a result of them. Comments that contain any of the following will be deleted: terms considered explicit and inappropriate; defamatory, obscene, unlawful, harmful, or offensive.
Netgear XAVB5004 Related News Articles