Huawei S5700-48TP-SI-DC Mainframe
48 10/100/1000Base-T,4 100/1000Base-X Combo,DC -48V
unit(s)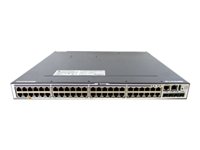 The S5700-SI series gigabit enterprise switches (S5700-SI) are next-generation energy-saving switches developed by Huawei to meet the demand for high-bandwidth access and Ethernet multi-service aggregation. Based on cutting-edge hardware and Huawei Versatile Routing Platform (VRP) software, the S5700-SI provides a large switching capacity and high-density GE ports to accommodate 10 Gbit/s upstream transmissions. The S5700-SI can be used in various enterprise network scenarios. For example, it can function as an access or aggregation switch on a campus network, a gigabit access switch in an Internet data center (IDC), or a desktop switch to provide 1000 Mbit/s access for terminals. The S5700-SI is easy to install and maintain, reducing workloads for network planning, construction, and maintenance. Featuring advanced reliability, security, and energy conservation technologies, the S5700-SI helps enterprise customers build next-generation IT networks.
Features:
Stackable
iStack is a technology that enables multiple devices supporting the stacking feature to function as a logical device. iStack has the following advantages:
1)Protecting investments during network capacity expansion
2)Simplifying configuration and management during capacity expansion: multiple physical switches form a logical switch
3)Improving system reliability by using the redundancy backup mechanism
4)Supporting link aggregation between member switches
5)Providing more ports and higher bandwidth
Intelligent heat dissipation
The fans start to operate only when the ambient temperature goes higher than a specified value. Reduce power consumption and noise
Green and low ratiation design
The product incorporates an energy-saving integrated circuit design to ensure even heat dissipation. Idle ports can enter a sleep mode to further reduce power consumption.
Radiation produced by the product is within the standard range for electric appliances and causes no harm to the human body
Maintenance-free, easy deployment and effortless management
The product supports automatic configuration and plug-and-play, which dramatically reduces maintenance costs.
The product supports GARP VLAN Registration Protocol (GVRP), which dynamically distributes, registers, and propagates VLAN attributes to ensure correct VLAN configuration and reduce network administrator workloads
Powerful surge protection capability
The product uses a Huawei-patented surge protection technique to prevent lightning-induced overvoltage.
All ports on the product have 6 kV of surge protection, making them eight times more lightning-proof than 4 kV switches. The Huawei patented surge protection technique greatly reduces the possibility of equipment being damaged by lightning, even in extreme situations or in scenarios where grounding is not feasible
Huawei S5700-48TP-SI-DC Mainframe - Product Discussion
Terms & Conditions - This tool is open to everyone. You are responsible for the contents of your comments and any consequences that may arise as a result of them. Comments that contain any of the following will be deleted: terms considered explicit and inappropriate; defamatory, obscene, unlawful, harmful, or offensive.
Huawei S5700-48TP-SI-DC Mainframe Related News Articles