HP V1900-8G Switch
Sorry, this item is no longer available from Comms Express.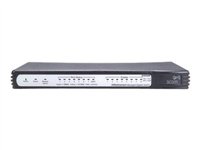 The HP 1900-8G switch delivers entry level Layer 2 Gigabit switching solutions in a compact and quiet desktop enclosure, customized and priced for small and mid-sized organizations. Without sacrificing the functionality normally required on managed networks, this managed switch offers tremendous value to small and medium businesses that need a level of control over their network not offered by unmanaged switching products - but require a low-cost solution. The HP 1900-8G switch helps build a voice ready network with QoS, radius authentication and other features. This switch has seven 10/100/1000 ports, and a dual-purpose Gigabit port to connect to high performance computers, servers, or network backbones. To ensure optimal use of the network bandwidth and maximum voice and data quality, traffic flow can be directed according to the needs of the business.
Features:
RADIUS accounting support
Uni-Directional Link Detection (UDLD)
Enhanced browser-based interface
Advanced QoS and traffic shaping
Flexible Gigabit uplink
IGMP snooping
VLANs
HP V1900-8G Switch - Product Discussion
Terms & Conditions - This tool is open to everyone. You are responsible for the contents of your comments and any consequences that may arise as a result of them. Comments that contain any of the following will be deleted: terms considered explicit and inappropriate; defamatory, obscene, unlawful, harmful, or offensive.
HP V1900-8G Switch Related News Articles