HP A-WX5004 Access Controller
Sorry, this item is no longer available from Comms Express.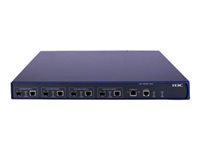 A standard HP A-WX5004 Access Controller supports up to 64 APs. The A-WX5004 Access Controller provides refined user control and management, comprehensive RF management and security mechanism, fast roaming, strong QoS and IPv4/IPv6 features, and powerful WLAN access control functions. Designed for the WLAN access of enterprise networks, the A-WX5004 Access Controller provides an ideal access control solution for WLAN access of medium to large enterprise campus networks and hot-spot coverage.
Features:
End-to-end QoS
IEEE 802.1p prioritization
Class of Service (CoS)
Automatic radio power adjustment
Automatic radio channel adjustment
Load balancing
Rogue AP detection
Secure controller management
Carrier-class wireless user access control
Fast roaming
High performance
HP A-WX5004 Access Controller - Product Discussion
Terms & Conditions - This tool is open to everyone. You are responsible for the contents of your comments and any consequences that may arise as a result of them. Comments that contain any of the following will be deleted: terms considered explicit and inappropriate; defamatory, obscene, unlawful, harmful, or offensive.
HP A-WX5004 Access Controller Related News Articles