HP A-WA2620E Dual Radio 802.11n Plenum Access Point
Sorry, this item is no longer available from Comms Express.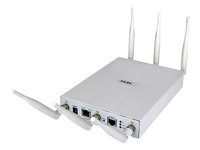 In enterprise headquarters, branch offices, or campus networks, the HP A-802.11n Access Point Series is an outstanding choice for secure, reliable radio-based connections. These WLAN access points extend mobile access to wired networks, broadening system capacity and providing seamless integration between wired and wireless networks. Employing these products as "fit" APs with an HP A series wireless access controller greatly facilitates network administration, allowing centralized management and automatic software upgrades-especially useful in large networks with many APs-while reducing network maintenance and administration resource requirements.
Features:
Centralized access point management means if the A-WA2600 series access point is used with an AC, most of management and data frames are processed by the AC
Automatic access point version upgrades means the A-WA2600 access points can automatically communicate with the AC in a network
Auto Channel Select (ACS) helps reduce radio co-channel interference by automatically selecting an unoccupied radio channel
IEEE 802.11h International Telecommunication Union (ITU) compliant employs Dynamic Frequency Selection (DFS) to automatically select another channel and adjust transmit power to reduce interference with systems
Dual stack means IPv4 and IPv6 support future-proofs the wireless network against obsolescence
Gigabit Ethernet interface provides a connection to the network that eliminates the network as a bottleneck
Secure access control by user means media access control (MAC)-based and IEEE 802.1X network access control centralize wireless security
Secure user isolation means virtual AP services enable the network administrator to provide specific services for different user groups, improving bandwidth and system resources and simplifying network maintenance and management
Secure access by location means location AP-based user access control helps ensure that wireless users can access and
HP A-WA2620E Dual Radio 802.11n Plenum Access Point - Product Discussion
Terms & Conditions - This tool is open to everyone. You are responsible for the contents of your comments and any consequences that may arise as a result of them. Comments that contain any of the following will be deleted: terms considered explicit and inappropriate; defamatory, obscene, unlawful, harmful, or offensive.
HP A-WA2620E Dual Radio 802.11n Plenum Access Point Related News Articles