In Stock: Next Day
Delivery:
unit(s)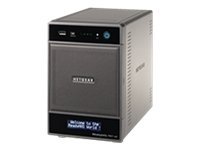 Packed with technology previously reserved for upper echelon high-end servers (i.e. RAID, Gigabit Ethernet, Continuous System Monitoring and Backup capabilities), the ReadyNAS NV+ brings Enterprise-level technology to the masses in a cost-effective manner. The ReadyNAS NV+ is a bulletproof way to virtually insure that your data will never be lost again to hardware failure.
Diskless ReadyNAS NV+ - Product Discussion
Terms & Conditions - This tool is open to everyone. You are responsible for the contents of your comments and any consequences that may arise as a result of them. Comments that contain any of the following will be deleted: terms considered explicit and inappropriate; defamatory, obscene, unlawful, harmful, or offensive.
Diskless ReadyNAS NV+ Related News Articles