D-Link DWM-156
In Stock: Next Day
Delivery:
unit(s)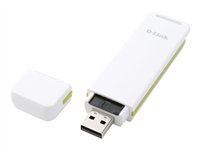 Whether at home, in the office, or traveling abroad, the DWM-156 provides reliable broadband connectivity for notebook users on the go. Maximum download speeds of up to 7.2Mbps and uploads at up to 5.76Mbps allow you to do more with your mobile connection than ever before.
The USB adapter also doubles as a MicroSD card reader for optional removable storage, allowing you to take both your network and your files with you wherever you go. Better yet, the device is small enough to fit in your pocket - no batteries, cables, or additional hardware required.
Features:
Provides high-speed connectivity in areas without conventional 802.11 wireless access
Compatible with a wide-range of mobile service networks
Pocket-sized USB adapter saves space
MicroSD card reader offers storage functions
D-Link DWM-156 - Product Discussion
Terms & Conditions - This tool is open to everyone. You are responsible for the contents of your comments and any consequences that may arise as a result of them. Comments that contain any of the following will be deleted: terms considered explicit and inappropriate; defamatory, obscene, unlawful, harmful, or offensive.
D-Link DWM-156 Related News Articles