Cisco SD2005
5-port 10/100/1000 Gigabit Switch
Sorry, this item is no longer available from Comms Express.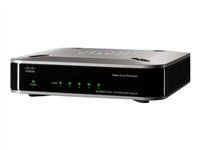 The Cisco SD2005 5-port 10/100/1000 Gigabit switch provides nonblocking, wire-speed switching for your 10-, 100-, and 1000-megabit network clients. Use this switch to replace your current workgroup hub or switch, and you can upgrade your high-requirement workstations to full Gigabit speeds as necessary, while continuing to service other clients at their current speeds. Or build your network from the ground up, with appropriate link speeds for each user's requirements. Either way, it's perfect for graphics, multimedia, and other applications that have to move large files across the network quickly.
With the Cisco SD2005, you can connect your existing 10/100 Ethernet network to a Gigabit server backbone without any additional equipment. All ports have automatic medium dependent interface (MDI) and MDI crossover (MDI-X) detection, so you don't have to worry about the cable type. Each port independently and automatically negotiates for best speed and whether to run in half- or full-duplex mode. Address learning and aging is supported, as well as 802.3x flow control with head-of-line blocking prevention to keep your high-speed clients from bogging down in lower-speed traffic. Fast store-and-forward switching prevents damaged packets from being passed on to the network.
World-famous Cisco reliability gives you peace of mind, and the ultra-compact case design is sure to fit into your workgroup environment. Let the Cisco SD2005 5-port 10/100/1000 Gigabit switch kick your network into high gear.
Features:
All ports support auto MDI/MDI-X cable detection
Fully compliant with IEEE 802.3, 802.3u, 802.3x, and 802.3ab
Non head-of-line blocking architecture
Full-duplex IEEE 802.3x flow control and half-duplex back pressure with intelligent port-based congestion detection and broadcast rate control
Connect up to five network devices - PCs, printers, and servers - to share and transfer large files and videos across your network
High-speed connectivity to support bandwidth-intensive applications
Works right out of the box with no software to configure
Cisco SD2005 - Product Discussion
Terms & Conditions - This tool is open to everyone. You are responsible for the contents of your comments and any consequences that may arise as a result of them. Comments that contain any of the following will be deleted: terms considered explicit and inappropriate; defamatory, obscene, unlawful, harmful, or offensive.