APC NetBotz Rack Monitor 200 (with 120/240V Power Supply)
In Stock: Next Day
Delivery:
unit(s)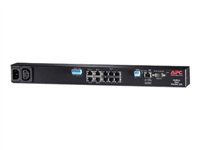 NetBotz Rack Monitor 200 supports up to 12 external sensor pods and up to 78 universal sensors.
Features:
Access monitoring
Environmental monitoring
Fault notification
Reboot equipment remotely
Adjustable threshold
Browser accessible
APC NetBotz Rack Monitor 200 (with 120/240V Power Supply) - Product Discussion
Terms & Conditions - This tool is open to everyone. You are responsible for the contents of your comments and any consequences that may arise as a result of them. Comments that contain any of the following will be deleted: terms considered explicit and inappropriate; defamatory, obscene, unlawful, harmful, or offensive.
APC NetBotz Rack Monitor 200 (with 120/240V Power Supply) Related News Articles