APC Metered Rack PDU, 1U, 12A/208V, 10A/230V, (8) C13
unit(s)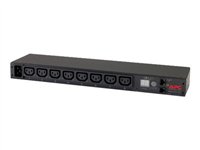 The aggregate current draw per power distribution unit is displayed on the unit via a digital display. The local digital display helps installers avoid overloaded circuits by providing a visible warning when the current draw is close to the maximum amperage draw of the strip. Define alarm thresholds in order to avoid overloaded circuits. Network and visual alarms inform the user of possible problems. Load Indicator indicates overload and warning conditions based on the user-defined alarm thresholds. Alerts users of potential overloaded circuits. Includes horizontal, vertical, and tool less-mount varieties. Puts power where it is needed most - in the racks near the equipment. Supply power from one branch whip to multiple pieces of equipment, conveniently powering rack-mount equipment. Saves time and money during installation by using one branch whip and standard connections. Product family includes a variety of input and output connections to distribute 120V, 208V, or 230V power to multiple outlets. Having a variety of inputs and outputs allow users to adapt to varying power requirements. APC offers units that bring up to 14.4kW using a single branch whip.
APC Metered Rack PDU, 1U, 12A/208V, 10A/230V, (8) C13 - Product Discussion
Terms & Conditions - This tool is open to everyone. You are responsible for the contents of your comments and any consequences that may arise as a result of them. Comments that contain any of the following will be deleted: terms considered explicit and inappropriate; defamatory, obscene, unlawful, harmful, or offensive.
APC Metered Rack PDU, 1U, 12A/208V, 10A/230V, (8) C13 Related News Articles